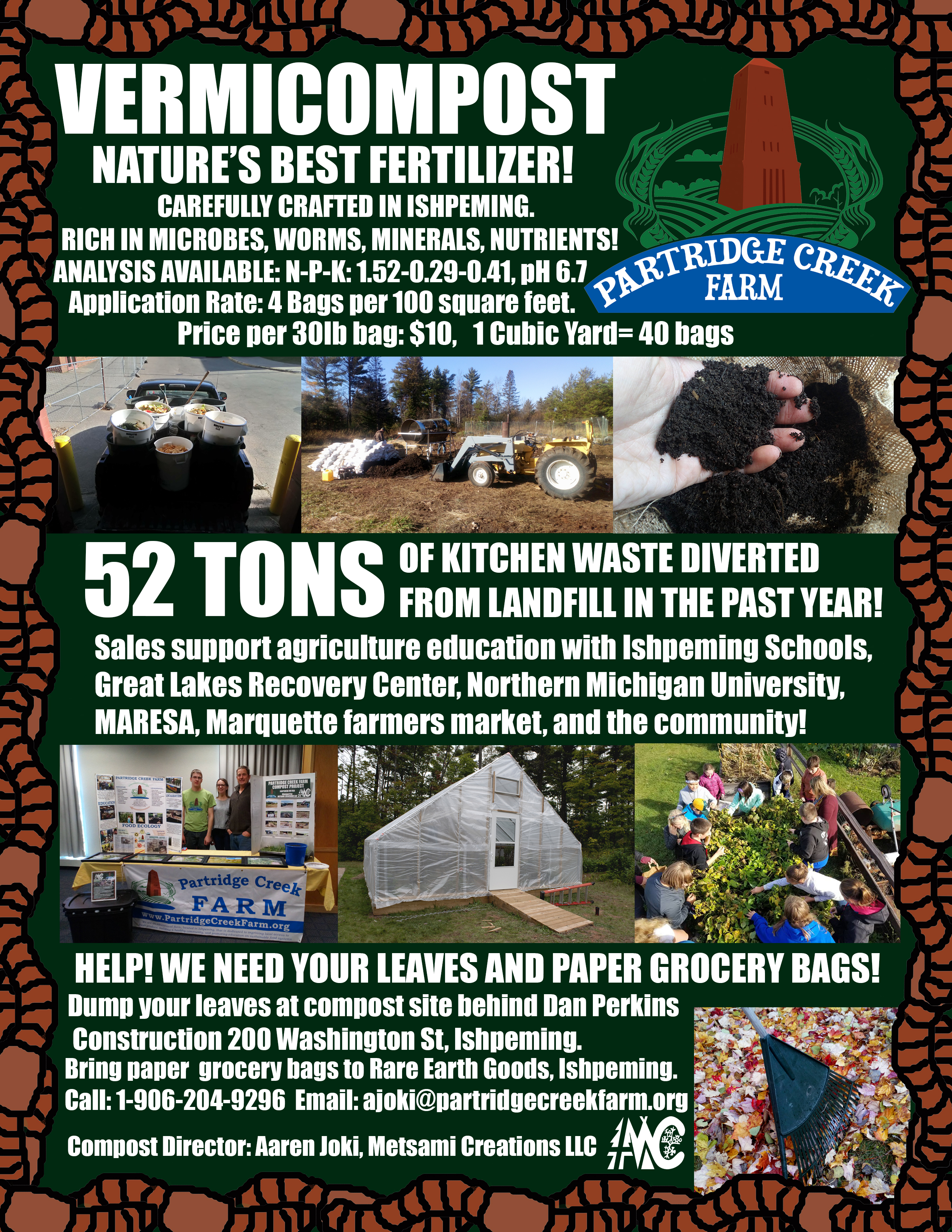 Metsami Creations is the management contractor for the Partridge Creek Farm vermicompost site!
Growing crops in the Upper Peninsula of Michigan is challenging; the climate is cold, the growing season short, and the native soil thin and rocky. Partridge Creek Farms realized their first priority was to obtain the best soil; to give their crops everything they needed to grow and thrive in our challenging environment.  After exploring options, Partridge Creek Farm decided to partner with Metsami Creations LLC to manufacture their own high quality vermicompost/wormcastings for use in all of their garden beds. The results were stunning and their gardens are producing bumper crops every season.  Now you can purchase our vermicompost to use on your houseplants, lawn, gardens, and trees. The sales of our vermicompost go to support our education programs with Ishpeming Public Schools, Great Lakes Recovery Center, MARESA, the Marquette Farmers Market, and our NMU internship programs.
***VERMICOMPOST SPRING SALE! $10 Per 30lb bag, any quantity!***
Bulk Pricing and Delivery:
1 Yard (40 bags, 1/2 ton) $400. Free delivery, Ishpeming, Negaunee, Marquette, Green Garden, Republic.
2 Yards (80 bags, 1 ton) $750. Free delivery up to Trenary, Gwinn, Michigamme, Witch Lake.
3 Yards (120 bags, 1.5 ton) $1,050. Free delivery up to Trenary, Gwinn, Michigamme, Witch Lake.
4 Yards (160 bags, 2 ton) $1,300. Free delivery up to Munising, Escanaba, Garden Peninsula, Iron Mountain, Baraga, Houghton, Bruce Crossing, Iron River.
5 Yards (200 bags, 2.5 ton) $1,500. Free delivery, same locations as above.
6 Yards (240 bags, 3 ton) $1,800. Free delivery, same locations as above.
CALL: 1-906-204-9296 EMAIL: metsamicreations@gmail.com
If you would like to purchase vermicompost, you can meet Aaren, the compost site manager, at the site access road behind Dan Perkins construction, at 200 Washington St, Ishpeming. We can also deliver larger orders. Call 1-906-204-9296 to schedule an appointment or delivery.
Payment options include cash and check in person, credit card on our website, or mailing a check to Partridge Creek Farm, PO Box 4, Ishpeming MI 49849.
Frequently Asked Questions
What is vermicompost?
Vermi is Latin for worm. Vermicompost is a mixture of vermicast (basically, worm poop) and composted organic matter (such as vegetable waste, leaves, lawn clippings, and manure).  Pure vermicast (also called worm castings or worm humus) is created when worms eat everything, leaving behind nothing but their nutrient rich poop. You can think of vermicompost as what you get when worms don't finish everything on their plate, and the leftover bits have decomposed (composted) and are ready for consumption by other microbes and plants.  In general, vermicast is more nutrient rich, but vermicompost has more biological diversity as well as higher microbial and fungal populations.
Pure vermicast varies in quality based on production techniques, diversity of ingredients used in the composting process, and the time and manner that they are stored after processing.  We believe a casting-rich vermicompost is superior to pure vermicast. By using many ingredients from food waste to hay, manure, and paper built in a "lasagna" layered technique, and slowly letting red wiggler worms and diverse biota do its work, we at Partridge Creek Farm are building the most biologically diverse and nutrient rich soil amendment available for natural growing practice.
How is vermicompost different than traditional compost?
Traditional compost involves throwing organic waste into a bin or pile and letting it break down by an aerobic process – that is, the pile heats up, breaking down the organic matter while killing seeds and pathogens present in the waste.
Vermicompost is far more nutrient rich than traditional aerobic compost because it contains much higher percentages of vermicast humus than either soil or compost, and the compost helps the humus hold more water and stay aerated, providing binding sites for micronutrients that would otherwise wash out of soil during heavy rains.  The humus is also chock full of plant growth hormones like cytokinins and auxins along with increased levels of micronutrients like calcium, magnesium, and sulfur.
Our vermicompost greatly improves the biological, chemical, and physical properties of soil.  Think of it as both a super food for your plants and a super conditioner for your soil. It creates a better plant root environment by improving soil structure and porosity, it increases the moisture holding capacity of light soils (thereby reducing nutrient leaching) and reduces compaction of heavy soils.
How does Partridge Creek Farm create their vermicompost?
We pick up most of our food waste in Marquette three days a week. The food waste is dumped into a row where it is layered and mixed with recycled paper products, leaf litter, old hay, and manure. This process continues all year, even in the heart of winter.
In the first three months, the interior of the compost row heats up due to thermophilic bacteria processes. An additional six months is needed for the red wiggler worms to colonize and pulverize the biomass.
After nine or more months, the raw vermicompost is run through a trommel screener to separate rocks, uncomposted material, and big worms. We package the sifted vermicompost in 30-pound bags. It takes 40 bags (1200 pounds) to make a cubic yard.
In the last year we have recovered about 52 tons of food waste from Ishpeming, Negaunee, and Marquette. Organic waste is becoming a big concern as it is a huge source of methane gas, and when organic waste is locked away in a landfill it is no longer a part of the soil cycle. Europe, South Korea, and Japan understand this and have gone to great lengths to curb food waste in landfills.
The United States is falling behind on organic waste management, and the Partridge Creek Farm vermicompost site is the only project of its kind in the Upper Peninsula. When we attended the Michigan Recycling Coalition conference, we realized there are very few projects like this in Michigan as a whole. We have a lot of work to do, but we at Partridge Creek are ahead of the rest!
At the Michigan Recycling Coalition conference, we learned the state of Michigan has banned organic food waste from the landfill. However, this ban is impossible to enforce, and instead landfills are fined for organic waste disposal. This fine carries over to disposal fees that YOU pay for. Until a greater market develops for compost and subsidies and grants exist to subsidize the development of organic waste compost operations, it will be up to local farms, nonprofits, businesses, and institutions to lead the organic waste management initiative.
How is Partridge Creek Farm's vermicompost better?
We use kitchen waste from local restaurants and Northern Michigan University cafeterias.  This provides a wide variety of food for our worms which means a wide variety of minerals and nutrients make their way into our product.  The other producers typically resort to processing large quantities of a single ingredient such as peat or cow manure; it's still good vermicompost, but it's limited in the range of minerals and other nutrients that come from kitchen waste.
Is it certified organic?
No.
The main reason we're not certified organic is because the kitchen waste we use is not certified organic.
We're exploring organic certification but so far, we haven't seen the demand.  One factor in our favor is that our vermicompost is aged for close to a year which meets the requirements of most organic certifications.
If you have a need for certified organic vermicompost, please contact us. You can request that your organic certification agency review our operations and approve our product to be used on your farm.
Is vermicompost better than chemical fertilizers?
Yes.  A thousand times yes.
Chemical fertilizers are to plants like sugar is to humans; they give a short-term boost but are unhealthy over time.  Compost provides the micronutrients and organisms to build the healthy soil your plants need in order to thrive.  The fungi and microbes in compost support the transport and exchange of nutrients found in the compost to plant roots, so no matter how much nitrogen, phosphorus, and potassium you throw at your plants it won't do anything if the fungi and microbes aren't present to transport these chemicals to the roots.  You need to build your soil so that nutrient exchange is maximized. Vermicompost has all the elements you need – the trinity of nitrogen, phosphorus, and potassium (along with a multitude of other nutrients such as calcium, magnesium, iron, sulfur, and zinc) as well as the fungi and microbes to transport those nutrients to plant roots.
How do I apply vermicompost?
Garden Beds:
Apply 120 pounds (four of our 30-pound bags) per year for every 100 square feet of bedding. Using a rake or hoe, work the vermicompost into the top two inches of soil. Apply heaviest in Fall or Spring and top dress lightly throughout growing season.
Lawns:
Apply 1/8 to 1/4 inch dressing of vermicompost to your lawn. For initial application, apply 60 pounds per 100 square feet which will easily achieve 1/8 inch. For subsequent years 20 pounds per 100 square feet , 10 pounds applied in the Spring and another 10 in the Fall.
If you currently fertilize your lawn with chemical fertilizers, you may want to mimic what some golf courses do; golf courses that are moving from chemical fertilizers to vermicompost start by applying 20 pounds per 100 square feet and continue applying a reduced chemical fertilizer regime. Over time, the chemical fertilizer is eliminated.
Applying vermicompost to lawns is a bit tricky because the best way to spread the vermicompost is with a compost spreader or manure spreader (used mainly for agricultural applications – it's overkill for residential use). If you don't have a compost spreader you can use the technique of one of our clients; cast the vermicompost on your lawn with a shovel or large trowel, then spread the vermicompost with a push broom or rake to achieve a 1/8 to 1/4 inch layer.
Trees:
For a mature fruit tree, apply 60 pounds per year around the tree's drip line. For smaller ornamentals, 10 pounds or so worked into the soil around the plant should be plenty.
(Aaren and I discussed these rates – Aaren has a 'Perennial' category but doesn't provide any differentiation between trees and bushes etc. So the above is sort of a guess on my part)
Potted Plants:
Apply 1/4 inch every four months. Gently work the vermicompost into the top 1/2 inch of the soil.
Seed starter:
Mix 1 part vermicompost to 3 parts soil. Vermicompost is powerful stuff and if you start seeds in pure vermicompost you may 'burn' the seeds with an excess of nutrients.
Do you accept yard waste?
Partridge Creek Farm does accept yard waste. We are mainly looking for leaves but will take some pine needles and grass clippings if they are mixed with an equal proportion of leaves. Please make sure it is free of trash! Drop it off at our site behind Dan Perkins Construction, 200 Washington St, Ishpeming.
We thank the following businesses and institutions for participating in our organic waste recycling program:
Ishpeming Public Schools, Delft Bistro, Vangos,
Rare Earth Goods, Donckers, Bodega Cafe,
Huron Mountain Bakery, Togos, Baby Cakes,
Midtown Bakery, NMU University Center, Border Grill,
Jacksons Pit, NMU Starbucks, Contrast Coffee,
Barrel and Beam, Temaki and Tea/Smoothie King, Dead River Coffee
How it's Made
How Good Does it Work?
A big question customers frequently have is "how good is our vermicompost/wormcastings compared to other competitors?". The compost industry is very competitive when it comes to marketing to cannabis growers, which make up the majority of bulk compost sales.
Not knowing the answer from experience, I had an intern conduct a study in my personal garden. The results were promising. With just a 1 part vermicompost to 2 parts of existing sand, it seems easily feasible to obtain 3oz of bud per plant. The control group plants in plain sand yielded almost nothing. Keep in mind the study was conducted in a very tight area, measuring 10'x15′. The plants were crowded and the root system trampled. Not ideal growing conditions. A pdf of the study is available:
Effects of Partridge Creek Farm Vermicompost on Cannabis Production
Left to right, compost to soil ratio groups: 1= No compost. 2= 1/6th compost. 3= 1/3rd compost. 4= 1/2 compost.
It is easily feasible to obtain 3oz of bud per plant by feeding each plant $10 worth of vermicompost!